│
日本語
│

A place where there are fun facts produced in Aso.
A place where you can feel the taste of Aso's activities.
A place where you can feel the life of Aso.
ASOMILK is the very "taste of the land of Aso" that comes from the "activities of Aso.
We want to create a place where the activities of Aso, including ASOMILK, which are being spun out even at this very moment, can gather and be communicated.
We want to create a place where people can taste and feel Aso.
The Aso Museum is a place to "convey and taste Aso itself and the present state of Aso".
and "to create the future of Aso in abundance"
"ASO FACT" is one of the words we use to express our wish to "create a prosperous future for Aso.

---
---
SHOP
ASO MILK FACTORY
The ASO MILK FACTORY store offers a proud lineup of ASOMILK products.
We offer pasteurized milk, yogurt, ASOMILK sweets made on the spot, and cheese from our cheese factory. We also have John Deere goods that are unique to the farm.
Cheeses are also sold by weight, and visitors can watch as they are cut from the block in front of their eyes.
And please enjoy "Aso Now" at ASO MILK FACTORY, filled with seasonal vegetables and fruits produced with great care by Aso producers, as well as Aso's representative sweets, confections, breads, pickles, and other items.
Business hours: 9:30-18:00
Closed:Open all year round
---
CHEESE
We know the conditions for good taste.
It is the value of "freshly picked," "freshly made," and "freshly packed".
That is why ASO MILK FACTORY's cheese factory (Caseificio ASO MILK) is committed to delivering "freshly made" cheese from "freshly pressed" ASO MILK. It can be tasted and picked up in restaurants, in cafes, in stores, and in sweets.
Our blue mold, white mold, washed, semi-hard, and other matured cheeses share the same values. We continue to manage and promote the ripening process in the ripening room in our workshop, and we are confident that we will be able to offer you "the taste of the moment" when we are ready to serve you.
Through a small window in one corner of the ripening room, you will be able to peek in on the cheeses that are waiting to be shipped. You can enjoy the cheeses made by the artisan staff trained at Invernizzi in Pontirolo Nuovo, a small town in northern Italy, right in front of your eyes.
---
SWEETS
ASO MILK is proud of its sweets workshop.
You can watch the baking of freshly made baumkuchen "ASOMILKUCHEN" right in front of you.
There are two types of ASOMILKUCHEN: hard and soft.
The soft type is a specially blended dough that is aerated to achieve softness, moistness, and a milk-like white baked texture. The soft type is soft to the touch and has a melt-in-your-mouth texture.
The hard type has a firm texture that is the prototype of the traditional baumkuchen. Crispy on the surface and moist on the inside, the more you bite into it, the more savory it becomes. You will enjoy the well-balanced sweetness and buttery flavor that spreads in your mouth with every bite.
We also offer the farm's special egg-free milk cookies, ASO MILK CHEESE's delicious and spicy cheese sticks, and the royal ASOMILK pudding.
---
CAFE
Enjoy ASOMILK soft serve ice cream, gelato and drinks.
The baum soft baked in a special version of Sweets Kobo's ASOMILKUCHEN soft type and topped with soft serve ice cream is available only at ASO MILK FACTORY Cafe.
Gelato is also available in ASO MILK FACTORY exclusive flavors. Granola cones are used for both gelato and soft serve ice cream.
The milk used for Cafe Latte and Cafe Mocha is of course ASO MILK, so please enjoy the harmony of the naturally sweet milk.
ASOMILK pudding made in the confectionery workshop is the best. You can also taste cannoli, a typical Sicilian pastry made with ricotta cheese produced in the cheese workshop and filled with cream in the confectionery workshop.
Seating is available indoors and on an open terrace overflowing with sunlight from the trees.
You can feel "Aso" and eat "Aso" at the same time.
Business hours: 9:30-18:00
Closed:Open all year round
---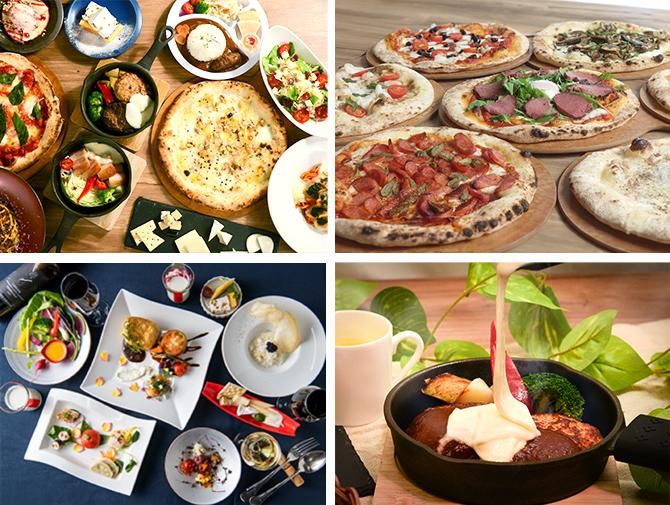 RESTAURANT
In the restaurant, you can enjoy your meal while watching the cheeses being matured through a small window in the cheese factory. A welcome ASOMILK, not a welcome drink, welcomes you.
Enjoy a variety of pizzas baked on the spot, generously topped with ASOMILK cheese, as well as skillet dishes featuring Aso's signature red beef, Yamaton pork, and bacon from Hibari Workshop. Witness the transformation of ingredients one after another in our open kitchen.
Special salad made with ASOMILK plain yogurt. whey rice cooked with whey, gelato and baumkuchen, traditional Sicilian ice cream "cassata" and homemade focaccia. The menu is full of ASOMILK!
Enjoy Italian cuisine of ASO MILK FACTORY where the chefs show their skills.
Business Hours
11:00-14:30(Lunch menu open)
14:30-17:00(Tea time menu open)
Click here for restaurant details(Japanese text only)
Restaurant Click here for group menu(Japanese text only)
---
ROSE GARDEN
HANAASOBI
One of the largest rose domes in Japan
It is one of the largest rose domes in Japan. The greenhouse and grounds boast 4,000 roses of 750 varieties.
The roses, which are maintained by experienced gardeners using organic fertilizers, will delight you with their beautiful and dainty appearance in spring and fall.
Spring roses are in full bloom from late April to early June, and the sight of all the roses blooming at once after enduring the cold winter in Aso is a true orgy of blooms. It is a privilege to walk through the rose arches in full bloom only during this season.
Autumn roses are at their best from mid-October to mid-November. Although there are fewer roses than in the spring, they are more fragrant and their colors are deeper and more lustrous.
There are many rose fans who fall in love with autumn rose. Even outside of the rose season, we aim to create a space where visitors can relax just by walking around the beautifully maintained garden.
Admission free
Business hours: 9:30-17:00
(Rose Dome only 10:00 - 16:30 December 1 - mid-April and August 1 - mid-October Temporarily closed for pruning work)
---
STRAWBERRY
Strawberry picking
Enjoy the best freshly picked strawberries.
Delicious strawberries grown in the subsoil water of Aso and full of sunshine.
We hope you will enjoy this precious experience in the Strawberry Garden, surrounded by the sweet aroma.
The elevated cultivation allows harvesting at eye level for both children and adults.
Two types of strawberries, Yubeni and Koi Minori, are available for unlimited time for all-you-can-eat.
Access
ASO MILK FACTORY
(HANAASOBI)
781 Ozato, Aso City, Kumamoto 869-2307, Japan